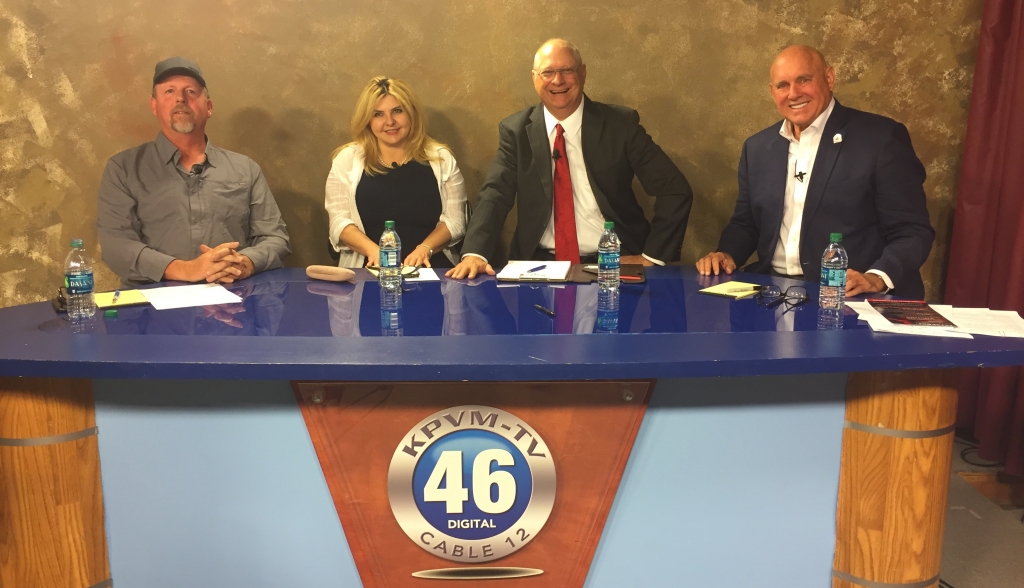 As you know, I debated Assemblyman James "The Big Selloutski" Oscarson last Wednesday night on KPVM Channel 46 in Pahrump, which was conducted 100% under his tightly-controlled and scripted terms and conditions.
Unfortunately, a mix-up at the beginning resulted in "Opening Statements" being scratched.  For the record, here's the prepared opening statement I would have delivered…
James, you're an embarrassment.

Frankly, if you had any respect whatsoever for the voters of Assembly District 36 you'd use your opening statement to announce that you were resigning from office and spend the next hour apologizing for your behavior.

Let me give just three examples…

1.)  You outright lied to get elected when you said you would vote against higher taxes. 

Instead, you voted for the largest tax hike in Nevada history, as well as 29 out of 32 other tax and fee increases.

In fact, your betrayal of the voters who elected you was so outrageous that the Nye County Republican Party actually passed a resolution officially kicking you out of the organization.

You should be ashamed of yourself.

2.)  You are obsessed with sex.

Your campaign has been filling mailboxes, billboards and the airwaves with lies about me, including graphic sexual images and messages that kids can see.

Worse, you constantly attack me personally as a "pimp" when the truth is you're the biggest political prostitute in Carson City.

You should be ashamed of yourself.

3.)  You're a political coward.

While I've accepted your challenge to be here tonight to debate under your tightly-controlled terms and conditions, you've refused to do any other debates or forums throughout the district where the voters can ask us both questions directly.

You also refused my challenge to stick around for the hour immediately after this debate to continue the discussion in an open, one-on-one, man-to-man format.

I can understand why you're afraid to face the public and defend your disgraceful record as a legislator and your unbecoming conduct as a candidate, but the voters deserve better.

You should be ashamed of yourself.

And with that, I conclude my opening statement.
As noted, we bought the hour immediately following The Big Selloutski's "fake debate" and invited him to continue the conversation, one-on-one, in a more open format.  Naturally, he chickened out and ducked us.
So we used that hour to do a little post-debate analysis with a roundtable discussion that included former Assemblyman Ed Goedhart, former Assemblywoman Michele Fiore and former Republican Party Chairman Chuck Muth, a campaign adviser, serving as moderator.
A LOT of great "insider" information about Mr. Oscarson's failings came out during the roundtable which wasn't covered during the "fake debate," including this bombshell from Ms. Fiore…
"I will tell you – again, rumor mill, rumor mill, rumor mill – I found it interesting that he (Oscarson) said (in the debate) what you (Hof) did (giving discounts to military veterans) was disgusting.  Yet one of the biggest rumors (around the Legislature in 2015) was an affair (Oscarson allegedly was having) with a lobbyist who lost her job in Carson City. And that's disgusting.  Business is not disgusting; cheating on your wife is disgusting."
Whoa!
We'll share more debate and post-debate highlights and lowlights in the days and weeks ahead, leading up to the June 12th primary election.  In the meantime, you can still re-watch both programs by clicking the links below…
Click here to watch 8NewsNow's report on the debate.
Click here to read reporter Riley Snyder's report on the debate.