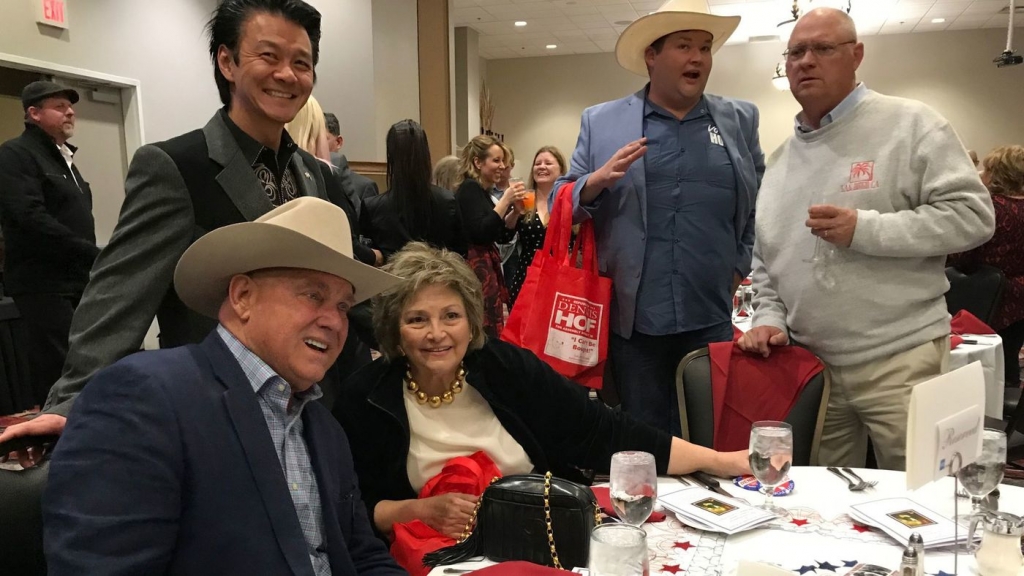 (David Montero | Los Angeles Times) – The brothel owner walked through the double doors of the casino ballroom with Paris and Destiny — two sex workers in slinky black dresses — gliding next to him like pilot fish.
He wore a cowboy hat and a dark blazer. He smiled a lot. He shook a lot of hands. His chief executive assistant, Zack Hames, guided him to his table at the 39th annual Lincoln Day Dinner hosted by the Pahrump Valley Republican Women and the Nye County Republican Central Committee on Friday night.
Dennis Hof had been told he'd have less than five minutes to address the crowd — which included U.S. Sen. Dean Heller and state Atty. Gen. Adam Laxalt. He hadn't prepared a speech.
"I'm just winging it," he said. "I don't need to prepare."
In less than three minutes, he would rip his opponent as not being a real Republican, say his priority would be to eliminate the state commerce tax, and tout that he was so wealthy he couldn't be bought.
Hof filed papers last week to run for Nevada state Assembly District 36, which primarily covers Nye County — a deep-red, rural region of about 43,000 people. It also includes a portion of Lincoln County and a small part of Clark County. The district is home to about 67,000.
Hof, 71, said he saw President Trump as a kindred political spirit and the spark that got him to switch from Libertarian to Republican and run this year. Hof first ran in 2016 as a Libertarian and lost to the GOP incumbent, James Oscarson. He announced his switch to the Republican Party a month after Trump won.