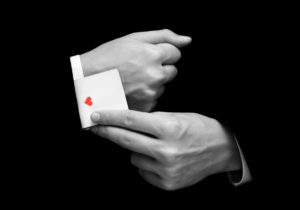 Over the weekend, Nevada Attorney General Adam Laxalt's campaign sent Assemblyman James "The Big Selloutski" Oscarson a cease-and-desist letter demanding that he and his supporters stop falsely claiming that Laxalt had endorsed him in this year's District 36 race.
The issue came to light last week when two outside special interest PACs (naturally) – with or without coordination with the Oscarson campaign (wink, wink) – used the fake endorsement in ads…one in a full-page newspaper ad and another in a mailer.
Neither of which, conveniently, can be corrected before voting on Election Day tomorrow.
In any event, instead of removing the fake endorsement from his website entirely, Oscarson simply and sneakily changed the listing from "Endorsements" to "2016 Endorsements."
Here's a screen shot of Oscarson's website's "Endorsments" menu bar before he made the change…

And here's his website's "2016 Endorsements" menu bar after altering it…

Now here's the heading on the actual "Endorsements" page before he made the change…

And here's the new "2016 Endorsements" heading after making the deceptive alteration…

What a worm.
This guy really does believe he can fool voters with tricks like this.
Don't let him get away with it tomorrow.  Vote HOF!