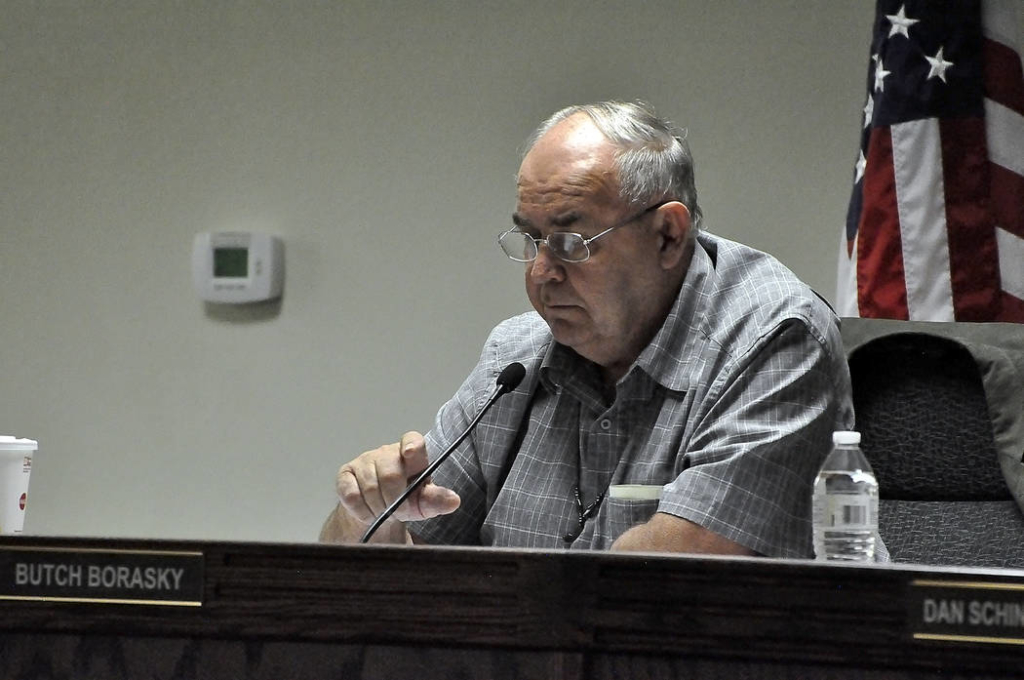 (Daria Sokolova | Pahrump Valley Times) – Brothel owner Dennis Hof is pursuing legal action against Nye County Commissioner Butch Borasky after Borasky made accusatory remarks in Hof's address at the Nov. 21 commissioners' meeting.
Hof hired David Houston, a Reno-based attorney who was lead counsel for wrestler Hulk Hogan in a case against the now-defunct news website Gawker. Tom Gibson of Gibson Law Group in Pahrump, another attorney in the case, is currently working on the legal filing.
At the end of the commissioners' meeting, Borasky made an announcement that he had "a gut feeling" that Hof, Joe Burdzinski, Nye County Republican Central Committee chairman, and Don Cox, husband of Commissioner Donna Cox, "might have his number."
"I'm going to say something, it's probably going to offend some people, but I'm sorry. After reading the history books of Nye County and all the things that happened, and all the strange disappearances, all the crazy things, the brothel war book, the former sheriff, I've just got a gut feeling that three individuals might have my number," Borasky said.
Borasky said that he is going to submit a written notice to multiple agencies, including the Nye County Sheriff's Office.
"If I should disappear, (get) hit in the head with a brick, get run off the road, or any other function to take my life away from me, then I would ask that they talk to Mr. Dennis Hof, Mr. Don Cox, and Mr. Joe Burdzinski, of the so-called Nye County Republican Central Committee. And I will put that in writing to all of the departments, all of sheriffs, and a whole bunch of other agencies, because it's just a gut feeling, but when I get them, they are usually right, so happy Thanksgiving," Borasky said.
Commissioner Donna Cox said that Borasky could leave her husband off the list.
"You can leave Don Cox off that list, because you have nothing to worry about there," Cox told Borasky.
"You watch your husband and everything will be fine," Borasky said.
Hof, who is running for the Nevada Assembly District 36 for the second time against incumbent James Oscarson, called Borasky's comments "politically motivated."
"It's all politically motivated, because I never had a problem until I ran for office," Hof said.
Hof said he never a problem with Borasky "about anything."
"I think this is real scary," Hof said about the situation. "And I want to demand that other commissioners stand up and say something and not hide behind Butch."
Burdzinski said that he is also looking into different legal options, but hasn't made a decision yet.
Burdzinski said that he was surprised by Borasky's comments, and didn't offer a suggestion on what could have elicited them.
"I have no ill will towards him. He seems very angry and upset. Our political differences should be settled at the ballot box, that's the only way," Burdzinski said in an email.
Hof said he is going to use every "civil and criminal" avenue to make Borasky "an honest man."
Arnold Knightly, Nye County spokesman, said Borasky never faced an ethics violation before. Borasky is currently serving the remainder of his third term on the Nye County Commission.
Nye County didn't have a comment on Borasky's remarks during the meeting.
Hof's attorneys respond
When reached by phone, Houston confirmed that he has been hired by Hof. Houston said that he is currently verifying the allegations made by Borasky, and will take further steps once he is done with the process.
"Quite frankly, if true, it's a ridiculous thing for a county commissioner to say. And quite frankly, a county commissioner should have a better sense," Houston said about Borasky's comments.
"No one should be referred to or implicated to be a criminal, and it's an absolutely ridiculous allegation that we will deal with accordingly," Houston said.
Gibson said he plans to file a motion for injunction relief in Judicial District Court in Pahrump shortly after Christmas.
The legal measure would ask for an injunction against any type of harassment to protect Hof, Gibson said.
"We've got a serious concern for my client's health and safety, because you never know what a person is liable to do when they feel threatened regardless of whether it's true or not," Gibson said.
"It's a big problem for the county, and it's a huge problem for me," Hof said. "And it's time to start draining the Nye County swamp and getting rid of those people."