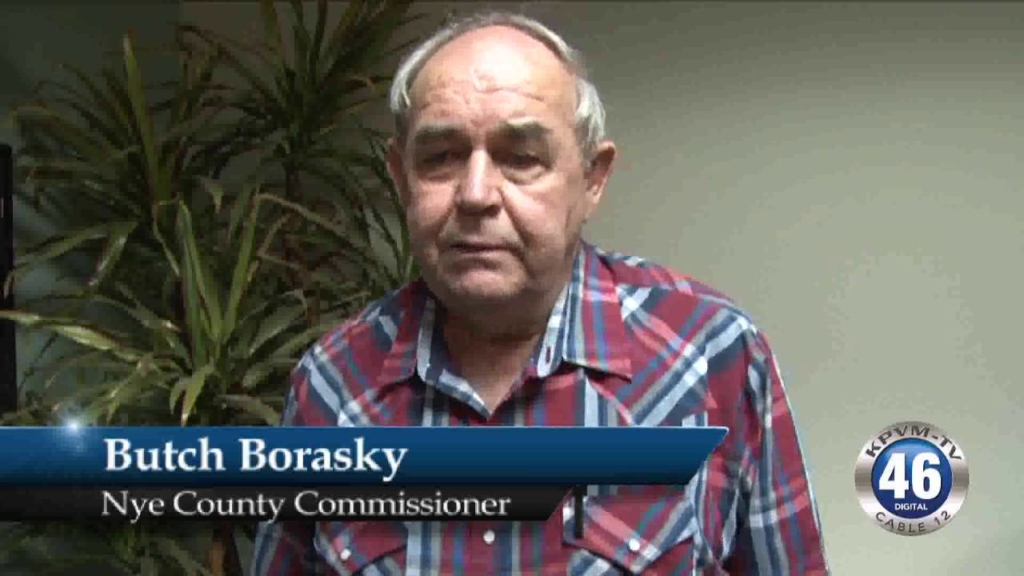 (Dennis Hof) – Nye County Commissioner "Butch" Borasky's elevator no longer goes to the top floor.  The wheel is turning but the hamster's dead.  He's a few fries short of a Happy Meal.  One sandwich short of a picnic basket.
Pick your favorite phrase, but the bottom line is this: Butch has lost it.  Totally.
In closing remarks at the end of the November 21st commission meeting, Mr. Borasky had an absolutely epic meltdown.  He launched into a rambling accusation filled with more paranoia than Humphrey Bogart's trial testimony in The Caine Mutiny.
The mental collapse occurred around the 1:52:00 mark of the meeting, which was captured on the county's video system.  Here's the transcript…
"Yeah, I'm gonna say something that's probably gonna offend some people, but I'm sorry.  Um, after reading the history books of Nye County and all the things that have happened and, um, all the strange disappearances, um, all the crazy things, the brothel war book, the former sheriff, the, um, I just got a gut feeling that, uh, three individuals might have my number. 
"And, if I should disappear, get hit in the head with a brick, get run off the road, or any other function to take my life away from me, that I would ask that they, uh, talk to Mr. Dennis Hof, Mr. Don Cox, and Mr. Joe Burdzinski of the, uh, so-called, um, Nye County Republican Central Committee. 
"And I will put that in writing to all the departments, all the sheriffs, um, and a whole bunch of other agencies because it's just a gut feeling, but uh, when I get 'em they're usually right.  So…happy Thanksgiving."
How embarrassing.
Mr. Cox is the husband of fellow Commissioner Donna Cox.
"You can leave Don Cox off of that list," Ms. Cox said to Mr. Borasky before the meeting was quickly gaveled to a close, "because you have nothing to worry about there."
To which Butch replied, dripping with condescension, right before the video feed was cut: "You watch your husband and everything will be fine."
Who talks like that to a fellow commissioner?
And why would he attack the elected chairman of the Nye County Republican Party with such "so-called" contempt?
As for me, it's no secret that Commissioner Borasky has a vendetta against my businesses in Nye County.  That's just the price you pay for standing up to a politician who's willing to use his power and his soapbox to hurt someone he personally doesn't like.
Unfortunately, this isn't the first time Butch went off the rails.  At a commission meeting back in August I mentioned a conversation he and I had a long time ago.  To which he responded…
"Mr. Hof, you made a statement that we had a conversation five years ago.  Please don't put words in my mouth.  . . . I told you to go to hell. That's the only conversation we had."
Not exactly a dignified manner for an elected official to address a constituent.  But that's par for the course in Mr. Borasky's one-man blood feud with my business.
I'm not even going to dignify his outrageous accusation with a response.  But I will suggest he get some professional help and stay away from sharp objects.  Such a stunning level of paranoia is dangerous, and Mr. Borasky's very sanity appears to be spiraling out of control.
He should resign immediately before he suffers a complete and total mental breakdown from which he won't be able to recover.
Mr. Hof is a successful Nevada businessman, author, philanthropist, star of an award-winning reality TV series on HBO and president of the Home of Freedom PAC.  He can be reached at DennisHof.com