(Team Hof) – Forget Russian collusion.  We have Democrat collusion going on right here in River City!
They say you're known by the company you keep.  And for tax-hiking RINO (Republican in Name Only) Assemblyman James "The Big Selloutski" Oscarson, one of his BFF's (Best Friends Forever) is a guy named Greg Esposito.
Who is Greg Esposito?
He's a political operative who got his start working for the Plumbers and Pipefitters Local Union 525 PAC.  And according to the liberal Blue Nevadan blog, "Fortunately for Nevada Democrats, Greg is on our side."
After getting involved in his first political race in 2002, "Greg then got involved with the Clark County Democratic Party and the state party."
"In 2008," the Blue Nevadan continued, "Greg was chair of the Rules Committee and Sargent (sic) at Arms for the Clark County Democratic Party convention" and later served as "chair of the 2012 Clark County Democratic Party convention."
This Blue Nevadan "Man of the Week" has since opened his own political consulting firm.
"If you believe in something and you want to see it operate properly, you have to be involved," Greg told the Blue Nevadan.  "If you really believe in a candidate, you have to get down to their campaign headquarters and be a part of their team."
And in 2016, this big-time Democrat operative was part of Team Oscarson!
According to Oscarson's final 2016 Contributions and Expense Report, Esposito donated $4,569.50 worth of FREE billboard advertising to the Oscarson campaign!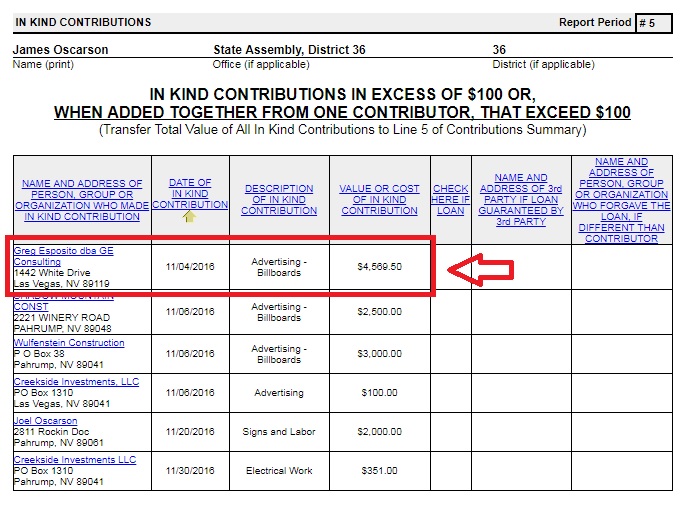 Amazing how that figure came in *just under* the $5,000 contribution cap, isn't it?
"THANK YOU, Greg," the Blue Nevadan concluded, "for giving so much of your time and talents to Democratic issues in Nevada!"
Tax-and-spend, big government, liberal Democrats clearly recognize that James Oscarson is one of them.
Fortunately, District 36 Republicans are gonna repeal and replace this RINO in the June 12 GOP primary.