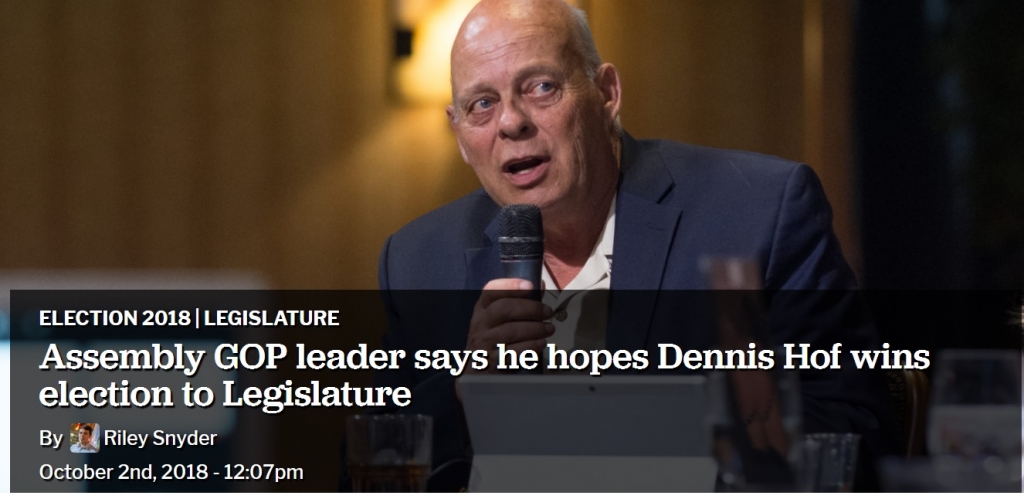 In her campaign literature my opponent is claiming that if Assembly District 36 voters send Dennis Hof to Carson City, "no one will want to work with him in the legislature."
Total bull, and here's the proof, as per a story by Riley Snyder in the Nevada Independent this week…
"The leader of the Nevada Assembly Republican caucus says he hopes brothel owner Dennis Hof wins his legislative race in November, after much of the state's political establishment have distanced themselves from his candidacy.
"Although the Assembly Republican caucus itself voted to not endorse or support any candidates following Hof's victory over incumbent Assemblyman James Oscarson in the state's June primary, caucus leader Jim Wheeler said in an email to Hof this week that he would 'automatically' become a member of the caucus if he wins in November and wished him luck on his campaign."
Last week I had a breakfast meeting with Republican Assembly Minority Leader Jim Wheeler in Carson City and he cleared up some confusion related to my candidacy and the GOP caucus.
While it's true the caucus members did not vote to officially "endorse" my campaign – which would have provided certain financial and grassroots campaign support – Jim pointed out that there are a number of other Republican assembly candidates who similarly did not receive the caucus' official endorsement for a variety of reasons.
He also assured me in an email this weekend that any Republican who wins in October will automatically become a member of the caucus.  In fact, here the entire statement Assemblyman Wheeler sent to me this week…
Dear Dennis,
Thank you for meeting with me on Tuesday.  This is to confirm what was discussed.
The policy of the Republican Assembly Caucus is to automatically and officially endorse incumbent members of the caucus.  Those endorsements come with certain kinds of campaign assistance, including, but not limited to, fundraising, strategy, message development, list development, data sharing, grassroots support and advertising.
As a group, caucus members also vote on whether to extend such assistance to certain non-incumbent Republicans running for any of the 42 Assembly seats in Nevada. 
As you know, the caucus did not vote to extend its official endorsement to your campaign in Assembly District 36.  However, I want to make it clear that such an endorsement was not made in a number of other Assembly races, as well.
That said and to clear up any misunderstandings, any and all Republicans running for the Assembly who win on November 6th will automatically become a member of the Republican Assembly Caucus on Nov. 7th with all the rights and privileges that come with membership, including voting rights and participation in caucus meetings.
Since the voters of your district chose to elect you in the primary, I personally hope that you and all other Republican primary winners win in the general election. I look forward to working with all the new Republicans in the caucus, as well as our returning members, in the new session on issues important to the caucus, your constituents, and the citizens of Nevada.
Assemblyman Jim Wheeler
Thank you, Jim, for your support.  Looking forward to working with you and the members of the GOP caucus next year.  Now onward to making Nevada NEVADA again!