"Nobody Puts Dennis in the Corner!"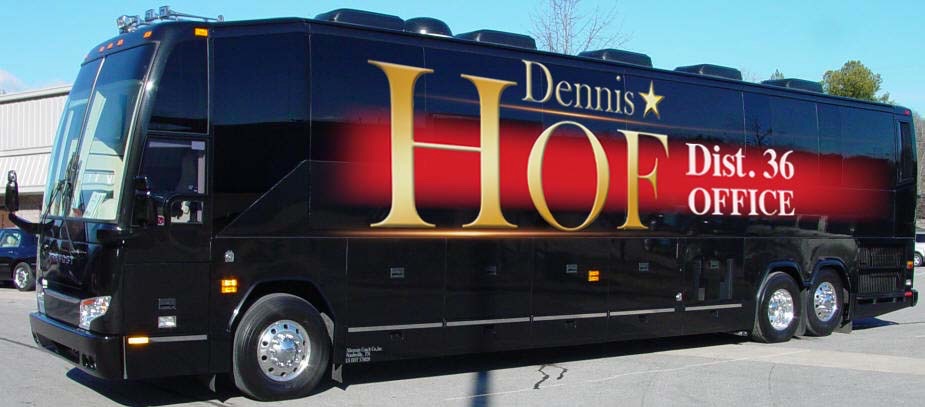 (Pahrump, Nevada) – In response to rumored threats that Assembly leaders plan to assign Nevada Republican Assembly District 36 candidate Dennis Hof to the "bad boy" office if, as expected, he wins the general election in November, Hof announced today he'll work out of a M*A*S*H – Mobile Assembly Strategic Headquarters – office instead.
"I'm gonna park it right in front of the legislative building," Hof said.  "Liquor will be served from 8:00 a.m. until midnight and free shoulder massages for anyone who comes to visit or meet with me."
The "bad boy" office was the nickname given to the smallest office in the building when former District 36 Assemblyman Ed Goedhart served in the Legislature.  It was assigned to Goedhart as punishment for being too conservative and not being willing to "go along to get along."
The million dollar luxury motor coach is being provided by the world-famous rock group, Motley Crue.
"When we heard what these petty political pissants were planning to do, we decided to step up and help out our longtime friend," a spokesman for the band said.  "Nobody puts Dennis in the corner."
After winning the Republican Party primary against incumbent Assemblyman James Oscarson last month, the Republican Assembly Caucus announced it would not support Hof in the general election.
And liberal GOP Assemblywoman Jill Tolles declared, "I will not caucus with Dennis Hof under any circumstances" – even though she refused to meet with him and has never even spoken with him on the phone.
Hof brushed off the snubs, saying he'll just form his own "Lone Wolf" caucus and work with anyone from either side of the aisle on issues of mutual interest; declaring that "our meetings will be a heckuva lot more fun than theirs!"
Hof also has a suggestion for what Assembly leaders can do with the official office that he's not going to need…
"Since I'm going to have my own M*A*S*H base camp, I think they ought to take my 'bad boy' office and convert it into a 'safe space' room – filled with little pink stuffed bunnies, soft lights, Kenny G music and maybe a therapy puppy – for delicate colleagues who feel uncomfortable being around a fiscal conservative who can't be bought and can't be bossed."
Hof – "The People's Choice" – said when not in Carson City, he plans to use his mobile office to travel throughout the district to meet with voters and constituents.  District 36 includes Nye County, as well as parts of Clark and Lincoln counties.  The general election will be held on November 6, 2018.
Over the past 40 years, Hof has been a successful Nevada businessman, entrepreneur, restaurateur, author, philanthropist, Oxford University lecturer, star of the award-winning "Cathouse" reality TV series on HBO, and producer of a CineMax show.
He's appeared on hundreds of radio and TV shows, including the Today Show, Good Morning America, The View, Diane Sawyer, 20-20, Entertainment Tonight, Inside Edition, Access Hollywood, The O'Reilly Factor, The Tyra Banks Show, The Howard Stern Show, The Adam Carolla Show, Lex & Terry, The Opie & Anthony Show and Dr. Phil.
He's been interviewed on FOX News, CNN, MSNBC, ABC, NBC and CBS and was the subject of an 11-page feature article by award-winning journalist Rebecca Mead in New Yorker magazine.