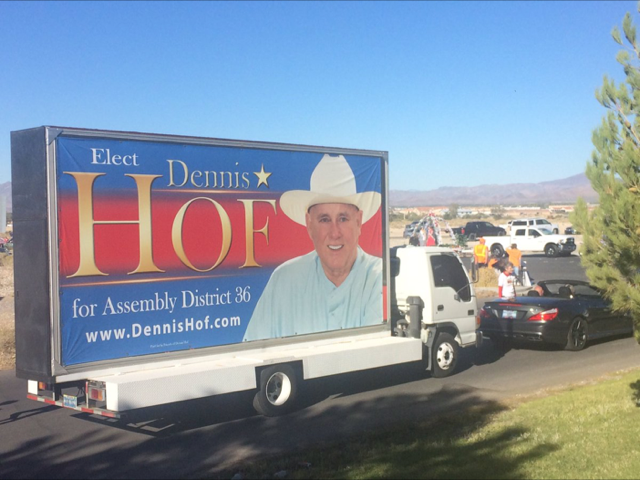 (Joe Schoenmann | KNPR) – Legal brothel owner Dennis Hof is running for a seat in the State Assembly. He beat Republican incumbent James Oscarson in the Primary Election to make that run.
However, his campaign was almost immediately embroiled in controversy. Both Sen. Dean Heller, R-NV., and Republican Gubernatorial candidate Adam Laxalt have refused to endorse Hof.
A former Nye County Commissioner told KNPR's State of Nevada that Hof is not a serious candidate for the position. Dan Schinhofen even wrote a bluegrass song that sharply criticized Hof and the people in Nye County who support him.
Schinhofen blames Hof for losing his primary race because he says Hof backed his opponent, which is something Hof called "a lot of nonsense."
Hof says Schinhofen wasn't elected because he wasn't doing what the voters wanted.
Hof also believes Schinhofen and others on the Nye County Commission took aim at him when he began getting interested in politics and running for office.
He also denied the accusation by the former county commissioner that he is only involved in politics to further his business agenda.
"I'm not here to push the brothel agenda," he said, "I got into politics to take out the RINOs – Republicans In Name Only – the tax hikers. That is the only reason I got involved in politics."
Besides not getting an endorsement from Heller or Laxalt, Governor Brian Sandoval and State Senator Michael Roberson didn't support him. However, that lack of endorsement from some of the state's top Republicans didn't bother him, in fact, he has embraced it.
"When Sandoval and tax hike Mike Roberson came out and said, 'we won't support Dennis,' I said, 'Wow! Thank you so much! Thank you so, so much. You can come to the ranch for free anytime you want because don't ever support me because my voters don't like these tax hikers. They don't like these Republicans In Name Only."
Hof also didn't shy away from calling out other Republicans in the Legislature, calling Assemblyman Jim Wheeler from Northern Nevada – Jim 'The Joke Man" Wheeler. He said Wheeler takes campaign money from prostitutes but won't endorse him.
Hof also hinted that some of the politicians who won't endorse him visit his brothels.
Hof also defended himself from an accusation by Adam Laxalt that he auctioned off the virginity of an 18-year-old girl as a marketing stunt.
"I don't auction anything," Hof said, "The girls do whatever they want to do with a client. All we are is the license holder and the place to provide adult entertainment."
Even though Laxalt is not supporting him, Hof is supporting Laxalt in the race for Nevada's governor.
While Hof said he would align himself with the more conservative voices in the Legislature, to get things done in a state legislature politicians have to work together. Hof said he would be willing to reach across the aisle to fix problems in the state.
"I'll work with everybody to do good things for my people and hell yes I will," he said.
He also said he would be willing to compromise to get things done in the Legislature even though it might be tough for him because he's been the boss of his own business for so long.
"The people of District 36 need to be represented by somebody that's not the pay-for-play guy. They can't buy me. They can't boss me around," he said.
The brothel owner and candidate also addressed some of the criticism of the industry. He denied that he took 80 percent of the income of the women who work in his brothels or that he required the women who work in his brothels to pay him to leave the business or that he required women to sleep him and his friends for free.
And as far as some of the issues facing his district and the rest of the state, Hof agreed that the problem of medical care in the rural areas need to be addressed and suggested pharmacists could help in some way.
He also agreed that the opioid crisis needs to be addressed but admitted he doesn't have a solution right now.
And when it came to the state's education system, Hof said the education system needs to be addressed but he's not sure more money is what is needed. He thinks there needs to be more accountability from schools.
"Let's get some bang for the buck," he said, "…Is the problem Las Vegas? If we pull Las Vegas out of the equation are educational scores good? If so, then we need to tell the world, so the big companies will want to come here and say there is educated people here. Las Vegas has a problem because of a lot of the immigration. If that's the problem, tell the world!"
Hof faces Democrat Lesia Romanov in the November election.