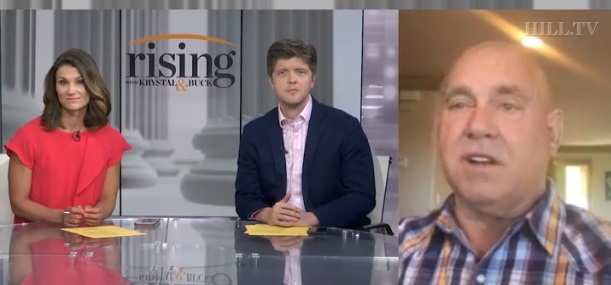 (Julia Manchester | The Hill) – Brothel owner Dennis Hof, who is running as a Republican for the Nevada Assembly, said on Friday that evangelical voters like him because he will not be paid off by special interests.
"What's in it for them [evangelicals] is that I'm going to fight for them, and I'm going to get something done, and I'm not going to get paid off," Hof told Hill.TV's Krystal Ball and Buck Sexton on "Rising."
"Like Roger Stone, he can't be bought, and he can't be bossed around. That's what they're thinking, that's what they want," he added.
Hof went on to say he was not concerned that the Republican establishment will not back him because of his business.
"I'm in a very red district. Red — libertarian, if you will — where everybody carries guns. We moved here for freedom. Freedom to gamble, freedom to drink, freedom to smoke weed, freedom to carry guns, freedom not to pay taxes like you're paying," he said.
Hof, who is the owner of the Moonlite Bunny Ranch and various other legal brothels, beat out Assemblyman James Oscarson (R) earlier this month in the Republican primary.
The district, centered in Nye County outside of Las Vegas, provided President Trump with a two-to-one edge over Hillary Clinton in the 2016 presidential election.
Hof stands a high chance of winning the seat in November's midterm elections, when he faces off against Democrat Lesia Romanov.