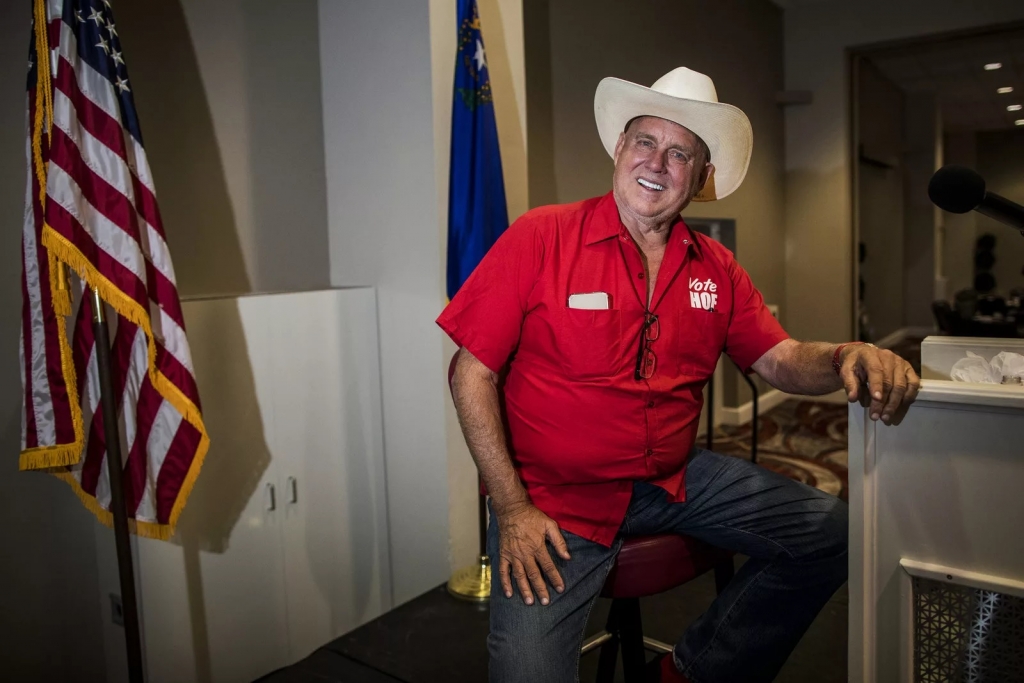 (Robin Hebrock | Pahrump Valley Times) – Famed Nevada brothel owner and Nevada Assembly District 36 Republican nominee Dennis Hof may have passed away on Oct. 16, but political experts are predicting his death will make very little difference in the outcome of that race.
Agreeing that Hof will still be elected by the Republican majority in District 36, two political science professors also said that Hof's passing provided a sort of relief for certain Republicans, both voters and politicians alike.
There are two names on the ballot for Assembly District 36, Republican Hof and Democrat Lesia Romanov.
"As Hof's name remains on the ballot, and a Republican would have to be appointed to the position given Hof's death, I think voters in Assembly District 36 will elect a dead man," Eric Herzik, a Ph.D. and professor who chairs the Political Science Department at the University of Nevada, Reno, stated when reached for comment. "Unless there is a massive 'blue wave' in the state, I don't see Ms. Romanov winning."
Further, Herzik said he believes Hof's passing will actually create a positive outlook for many Republicans who were uncomfortable with the idea of electing and working with a brothel owner.
Herzik stated, "For Republicans, getting an appointed representative is an odd silver lining to this whole affair. While it is possible Republicans might stay away (from the polls), I doubt it. In fact, Hof was something of a divisive force among Republicans. Many outside Assembly District 36 wondered how Hof would be received by the Republican Party in the Legislature. With his death, that discomfort some Republicans felt with Hof, goes away."
Fred Lokken, chairman of the Department of Business, Political Science and History and professor of political science at Truckee Meadows Community College, concurred with Herzik's point of view. Lokken noted that he too believed Hof would ultimately see a post-mortem election win.
"I'm sure all of were surprised by the news," Lokken said. "Given the make-up of the district, he was going to win. Based on previous experience (candidates have died before) and the fact that Nevada does not allow write-in candidates (that's how many states would deal with this), Hof will win the election. The overwhelming Republican majority of voters will not vote for the Democratic challenger. Since two of the three counties (that make up Assembly District 36) are Republican-controlled, they can outvote the Clark element, where the Democratic voters are mostly located."
Lokken continued, "I have to assume the Republican caucus of the Assembly will be relieved. There was apparent concern about Hof's pending election victory, dealing with a brothel owner, and a controversial one at that."
Nye County GOP Chair Joe Burdzinski is yet another who is anticipating a victory for Hof this November, despite his death. "Elections in the past have always favored Republicans over Democrats in Assembly District 36 and all of Nye County," he said.
However, Burdzinski still took the time to emphasize his belief that voters need to hit the polls and cast their votes in favor of Hof.
"People need to vote for Dennis Hof so a Republican can be appointed to that seat. In that case, when Dennis wins, Nevada NRS clearly states that a Republican would have to be appointed to that position," Burdzinski said. He remarked that the appointment to fulfill the two-year term would be in the hands of the county commissions of Nye, Clark and Lincoln counties, which make up District 36, but Nye would likely have the most weight because the largest percentage of the District 36 population lives in Nye County.
"As of right now, there is some disagreement on whether the current elected commissioners of the newly elected commissioners (who start in 2019) will make the appointment," Burdzinski explained. "My interpretation of NRS 218A.260 is that this should be the newly elected commissioners who make the appointment."
Early voting for the 2018 general election is already underway. Election Day is Tuesday, Nov. 6.