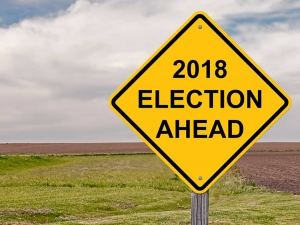 (Robin Hebrock | Pahrump Valley Times) – The 2018 election season is starting to heat up and opponents James Oscarson and Dennis Hof, both Republicans seeking the Nevada Assembly District 36 seat, have hosted campaign kick-off events in Pahrump where thousands of their potential voters reside.
Each event was well-attended, with hundreds of residents out to show support to the one they feel will best represent the people. Oscarson and Hof may not agree on much in this tense fight for the office but they concurred on one thing. Both showed confidence that they believe they have the backing necessary to see their way through the primary election and emerge successful.
With a field of support already forming for each, the battle between the two is beginning to get fierce, with all of the political mudslinging that such contentious elections tend to inspire. Oscarson and Hof have both taken the offensive in a variety of public venues, including radio, Internet, email and social media, hurling accusations and attacking each other's character.
The primary election is June 12.
. . .
Hof, however, has not budged from his 2016 stance, still concentrating on the Republican principle of lower taxes and Oscarson's voting record throughout the five years he has been in the Assembly. Hof contends that Oscarson was elected on a campaign promise to not raise taxes but broke his word, voting multiple times in favor of increased taxes or fees.
. . .
Hof has also dubbed himself a "RINO Hunter" with the aim of removing "Republican in Name Only" Oscarson from office. Hof has likened his own campaign to that of President Donald Trump's in 2016. As Trump has been known to do, Hof has also given his opponent a nickname, calling Oscarson "The Big Selloutski" due to Oscarson voting in favor of the Nevada Commerce Tax in 2015.