UPDATE (10/31/18):  A second memorial service for Dennis in Pahrump has been scheduled.  It will be held on Friday, November 16, 2018 at 6:00 pm at the Pahrump Nugget.
This service will be open to the public and the media.
UPDATE (10/29/18):  Because seating at Dennis' "Celebration of Life" service in Carson City is open to the public but limited, folks wishing to attend need to RSVP through Eventbrite.  There will be some "standing room only" availability on the day of the service on a first-come basis for those who do not pre-register.
To reserve a seat in advance online, click here
UPDATE (10/25/18):  Yes, Dennis' memorial service will be open to the public.  However, seating will be very limited.  So this will be a ticketed event.
Check back here regularly for information on obtaining a ticket as soon as the online reservation system is in place.
UPDATE (10/24/18) : Here is information on the scheduled memorial service for Mr. Hof in Carson City…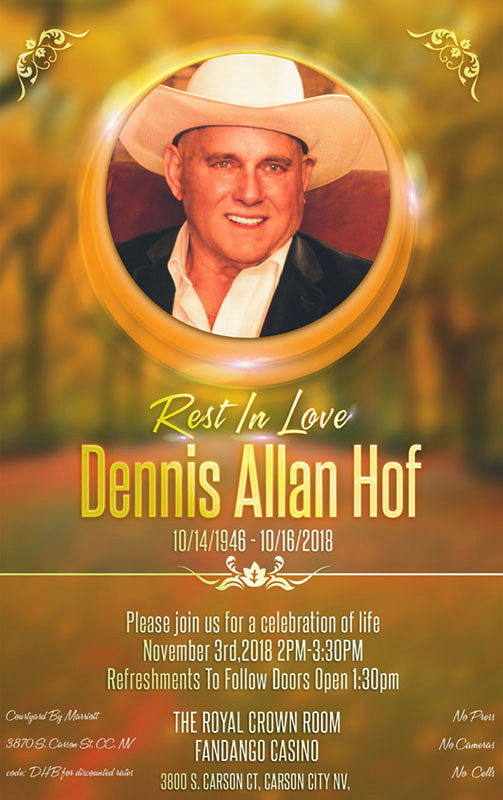 The following statement was released today on the passing of Dennis Hof…
"It is with great sadness and tremendous shock to announce that Dennis Hof, 72, passed away sometime this morning in his sleep at the Love Ranch brothel in Crystal, Nevada.  He was discovered by longtime friend Ron Jeremy – who went to his room to wake him for a scheduled lunch at the Pahrump Senior Center – around 11:00 a.m.  No cause of death has been determined.  The Clark County coroner will conduct an autopsy."
# # #
Statements on Dennis' passing…
"He said it was the best night of his whole life." – Longtime friend and film star Ron Jeremy speaking of Dennis' birthday party/campaign rally in Pahrump the night before he passed away
"Dennis was the quintessential Nevadan – independent with a strong sense of liberty.  He was a genuinely kind man who saw it as his duty to make sure that everyone around him was always taken care of, and that they had a hell of a time.  To the extent anyone believes in the afterlife, I can assure you that the other side just got a hell of a lot more fun." – Hof attorney Marc Randazza
"He MC'ed the (campaign rally/birthday party) event last night for 3 hours. He had the crowd in stitches, regaling us all with stories from his work and campaign. He liked people and that crowd loved him back. Amazing to watch.  He was full of life and energy last night and it is a very difficult to realize we lost him." – Grover Norquist, president, Americans for Tax Reform
"Dennis never wanted anything from the government other than to be left alone.  He was a strong leader for the taxpayer movement and would have shaken up Carson City and moved Nevada back to its Reagan/ Laxalt roots.  He was a personal friend.  I liked him.  He was full of the world's wisdom and kindness.  I miss him already." – Grover Norquist, president, Americans for Tax Reform
"Nobody gave him a prayer of winning the Republican primary.  But he did.  I just think it's a shame that what a lot of us were all looking forward to we won't get to see.  He was going to be the Uber and AirBNB of politics. He was going to totally disrupt politics in Nevada." – Chuck Muth, campaign manager
Media Reports