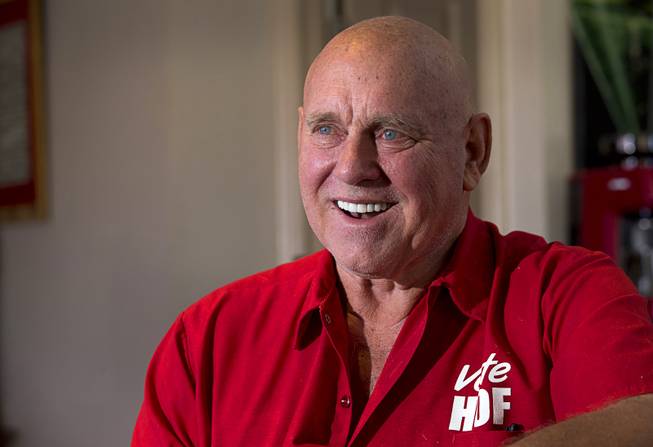 (Brett Fisher) – Dennis Hof managed to become the face of an industry unique to the Silver State.
The flamboyant brothel owner, who died suddenly on Oct. 16 at age 72, took legalized prostitution in Nevada to, uh, new lengths, so to speak, almost single-handedly reshaping the state's controversial sex industry.
Hof gave himself the endearing moniker, "Trump from Pahrump," hoping to secure a state assembly seat as the Republican Party candidate this year. To me, Hof was more like a modern-day P.T. Barnum; Nevada's very own version.
Noted by some as an enterprising entrepreneur, Hof's ambitions were surpassed only by his showmanship.
He was a verbose, controversial attention-seeker. Some may argue that he gave to charities vainly only to look good for his own benefit.
Perhaps.
But no one can dispute that he gave, making him an odd anomaly: A pimp with a charitable edge.
The counties in which his brothels operate have benefited from Hof's business, and so have residents there.
Hof, like the Silver State in which he lived, was a colorful libertarian rebel who managed to upset a lot of folks with his upfront style.
I'd say he did more than that.
Dennis Hof swam against the current, marched to the beat of a different drum, and did things his own way. Right or wrong, good or bad, he lived his life on this earth by his terms.
Fittingly, Dennis Hof passed away inside the suite of one of his brothels following a raucus birthday bash and romp. I wonder if that's the way he wanted to go.
Call it poetic justice or yet another example of Hof doing things his own way. Either way, Nevada lost an icon, a distinctive Silver State personality who never shied away from controversy.
If there was socioeconomic controversy in Nevada, more often than not Dennis Hof was in the middle of it.
Ironically, though, he will not see the conclusion of current political conflicts surrounding his enterprises in Lyon and Nye counties. Voters in those districts will make some decisions on election day, Nov. 6.
(Mr. Fisher writes for Carson Now. This excerpt was originally published on October 20, 2018. Click here to read the full column.)