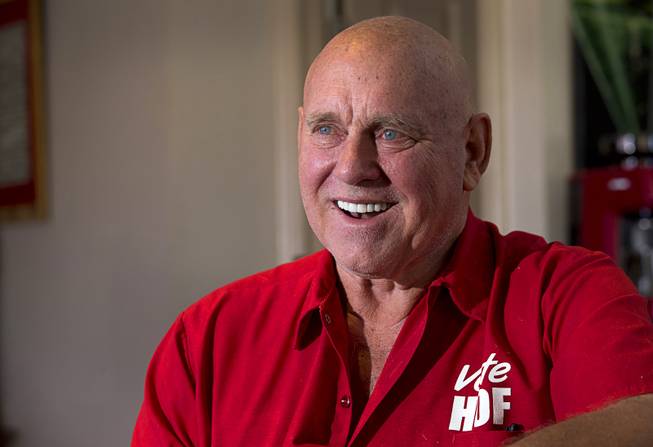 (Mick Akers | Las Vegas Sun) – He has spent many days through the years greeting visitors and coordinating deals from this spot at Love Ranch in growing his brothel empire.
But this deal is different. Hof, the famed pimp, is transitioning to another industry — Hof, the politician.
He is on a video conference with the producer of a reality show and listening to how it would document Hof selling his two brothels in Nye County to Heidi Fleiss, who gained notoriety in the 1990s as the "Hollywood madam." Hof, you see, plans to extricate himself from his Southern Nevada ranches — still operating his four Northern Nevada brothels — in a move to prove he's committed to his political foray.
Hof, who has been in the legal brothel business for nearly 30 years, said he didn't want to have any such business dealings occurring in the state Assembly district that he would represent. He doesn't, however, see any problem with continuing to operate his Northern Nevada brothels, which are a relative stone's throw from the state capital in Carson City.
The so-called "Trump of Pahrump" is the Republican nominee for the District 36 Assembly seat, campaigning on a Donald Trump-inspired theme: "Make Nevada, Nevada Again."
Roger Stone, a longtime adviser to the president and self-proclaimed dirty trickster, pinned the "Trump of Pahrump" moniker on Hof at an April campaign rally in the Nye County town. The nickname, Hof said, made a lot of sense.
He and Trump have a lot in common, like being successful businessmen, starring in reality shows, authoring books and liking "pretty" girls, Hof said.
"Am I riding the Trump train? Hell yes I am," Hof said. "He blazed the trail for me. I would have never won the primary without what Donald Trump did. He carved a new dimension into the political realm, and I'm one of the beneficiaries of it."
Hof ran as a Libertarian for District 36 seat in 2016, but lost to James Oscarson. This year, running on the GOP ticket, Hof upset the incumbent Oscarson in the June primary. Not all Republicans are impressed.
Key Nevada Republicans like U.S. Sen. Dean Heller, Attorney General Adam Laxalt and outgoing Gov. Brian Sandoval have denounced the self-proclaimed pimp. Laxalt, the GOP gubernatorial nominee, "does not support Dennis Hof and will not be supporting him," Laxalt's campaign manager Kristin Davison said in an email last month to the Associated Press.
Hof isn't bothered by the snubs. Such Republicans, he said, are part of what he's campaigning against.
"When I heard the news, I was jumping up and down. I was ecstatic. Sandoval is the super RINO (Republican in name only); he is the one who started the (recently instituted commerce) tax," Hof said. "The reason I won is because Oscarson supported the commerce tax. If they would have supported me, the people would have lost faith in me and I would have lost. I've got the endorsement of the people; I'm the people's choice."
Hof singled out the sitting governor for his nonsupport.
"If Sandoval promises to keep not supporting, he can come down to any of my ranches once a month for free," Hof said.
Not everyone in the Nevada GOP apparatus is anti-Hof. Some of the party regulars welcome a candidate who has been successful in the business world.
Nevada GOP Chairman Michael McDonald didn't endorse Hof, but did highlight some reasons why Hof makes a good Republican.
"We welcome fiscal conservatives such as Mr. Hof who want to join our party," McDonald said last month in an open letter. "We need more of them. Also, since joining the party, Mr. Hof has been an extremely active and generous member — with both his time and his money. He has attended all but one Central Committee meeting, Lincoln Day dinners, the GOP caucus and the GOP convention."
Trump, despite some questionable morals, received overwhelming support from evangelicals, and that's something Hof believes played in his favor as well.
"Everybody said the women or religious people weren't going to vote for (Trump). And you know what they did? They went in away from their spouses and religious groups … and they voted Trump," Hof said. "The same thing happened here. They wanted someone who would repeal the commerce tax, fight for Second Amendment rights, fight for their water. And even though he owns brothels what did they do? Voted Hof," he said.
"A lot of them probably aren't even admitting to it," he added.
Going into his general election showdown with Democratic nominee Lesia Romanov, a longtime educator, Hof said his focus would be on much of the same from his previous campaigns with one new wrinkle: His new motto.
"Now what I'm looking to do is push 'Make Nevada, Nevada Again,' " Hof said. "I think people will resonate with that. Give us our freedom. We're about low taxes, drinking, gambling, girls and guns. That's what this state was founded on."
Romanov said she didn't think Hof would be the best representative for either the state or the vast 36th District, which stretches nearly 150 miles from east to west and about 270 miles from north to south and includes parts of Nye and Lincoln counties, along with sparsely populated, mostly rural areas of Clark County.
"I want to ensure someone fills the seat that has ethics and the best interests of the state," Romanov said. "His comments have said that he wants to make the Legislature fun, and he wants to park a big bus in front of the legislative building and entertain the Legislature. I don't think that is reflective of the needs of his constituents."
Romanov says it will be crucial to focus on the needs of the people in her district, especially the area with the largest concentration of population.
"I want to make sure I address the needs for people in the town of Pahrump," she said. "Educational areas, growth, their water rights."
Hof will have campaign billboards up around Pahrump, but he doesn't plan on creating attack billboards as he did in his race against Oscarson.
"I don't know anything about this woman. I don't have anything bad to say about her," Hof said. "But I think the people are going to say, 'Do we want another schoolteacher in the Legislature making decisions, or do we want a real businessman like Donald Trump?' "
Romanov said Hof's statement made no sense to her. The teaching profession helps shape the future of Nevada, she noted.
"I'm in the business of educating the children of the families of my constituents," she said. "I think that's beneficial for the state."
His business background is where Hof thinks he'll best Romanov and is the reason he thinks he'll ultimately win the Assembly seat.
"The state is no different from one of my businesses," Hof said. "We still buy water, we have human resource issues, we have automobiles to buy. It's (the budget) just got a lot more zeros behind it than my business.
"You take away the product and business is business. I sign the front of paychecks. I know what it takes to run a business."
As for a reality show regarding the sale of his brothels in Nye County, Hof says he and Fleiss have another conference call scheduled this week with executives from Netflix.
This article was originally published on July 29, 2018.  Click here to access original story