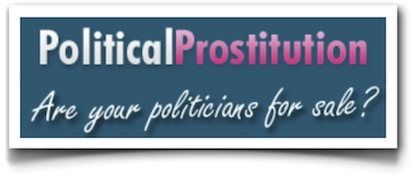 There's an old joke about a guy who propositions a woman in a bar, offering her $10,000 to spend the night with him.  She thinks for all of a split second before enthusiastically responding, "Sure!"
To which the man then asks, "Well, would you do it for fifty?"
To which the woman indignantly replies, "Fifty?  What do you take me for, a hooker?"
To which the man deadpans, "We've already established what you are.  Now all we're doing is negotiating the price."
I couldn't help but think of that joke as I was reading Assemblyman James "The Big Selloutski" Oscarson's (RINO-AD36) latest campaign finance report.  Give the man credit.  He may be a professional political prostitute, but he ain't no cheap street hooker!
In fact, our campaign has detailed all the special interest donations Assembly Oscarson raked in during the 2016 campaign cycle – totaling almost $300,000!  You can check it out at www.TheBigSelloutski.com.
The first reports for the 2018 cycle have now been filed, and we see The Big Selloutski has picked up right where he left off.
Despite there being a "black out" period for the first half of 2017 – as legislators aren't allowed to accept donations while in session – Oscarson nevertheless hauled in over $58,000 (including a little over $8,000 that he "loaned" his own campaign for some reason).
And of that money, only ONE donation listed is from an individual who doesn't appear to be a lobbyist: Former Democrat(!) Congresswoman Shelley Berkley ($250).
Everything else came from lobbyists, corporations and PACs (many from out-of-state).  You can review the full list by clicking here.
An amusing side observation is how many "campaign" expenses the man has chalked up for FOOD…
Firkin' and Fox restaurant, Black Bear Diner, Kim Lee Sushi, Paul Schat's Bakery, Wally's Pizza & Subs, CV Steak, Roadrunner Café, Villa Basque Deli & Café, Donuts to Go, Tommy Bahama's, Garibaldi's restaurant, Pizza Hut, Tomo Sushi & Grill, U.S. Submarine Base, McDonald's, Mom's Diner, Smith's supermarket, KFC-Pahrump, Terrible's Roadhouse, El Jefe's, Mom & Pop's Diner, Mimi's Café and the Claim Jumper.
Gives a whole new meaning to "getting fat off donations"!
The bottom line is this: Mr. Oscarson has become a representative of special interests and long ago stopped representing the people of District 36.  He's part of the Carson City "swamp" that's every bit as corrupt as the swamp in Washington, DC.
On the other hand, I have taken ZERO dollars from any lobbyists or special interests.
Together you and I can strike a blow against the "swamp" by flushing The Big Selloutski down the drain in the June 12 Republican primary.  Please join me!