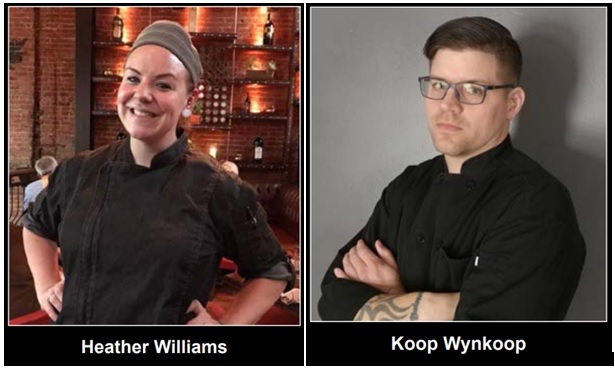 Executive chefs Heather Williams and Koop Wynkoop – two former contestants from Season 16 of the award-winning "Hell's Kitchen" television show – will be cooking up culinary delights at a pair of campaign kickoff events for Republican Nevada State Assembly candidate Dennis Hof in Pahrump on March 9-10, 2018.
"Dennis is an amazing businessman," Williams said.  "I've learned a lot from him.  He cares deeply about people and their well being, respects the military and supports gun rights.   Vote Hof!"
"Dennis is a person of his word," added Wynkoop.  "That means a lot to me.  When I talk with Dennis it's like talking to an old friend. Great stories and laughs and always little bits to make you think."
"As a reality TV veteran myself, I understand and respect the tremendous pressure Heather and Koop were under while competing on Hell's Kitchen," Hof said.  "And I'm honored that they've agreed to bring their celebrity and talent to Pahrump to help me officially kick off my 2018 campaign for the Nevada Legislature."
Hof was the star of the award-winning HBO television series "Cathouse" and is running against incumbent Assemblyman James Oscarson for Nevada's District 36 seat in the June 12 Republican primary election.
Williams and Wynkoop will prepare specialty dishes for a VIP Wine and Hors D'oeuvres reception on Friday night, March 9, at the Nye County Republican Party headquarters at 3370 Nevada Highway 160 beginning at 6:00 pm.  The event is limited to registered Republicans.
The pair will then present "an extraordinary pasta dinner" on Saturday night, March 10, at the Pahrump Senior Center located at 1370 W Basin Avenue beginning at 6:00 pm which will be open to the public.
Both events are free, but seating is limited on a first-come/first-serve basis.
For more information, contact Zack Hames at [email protected].