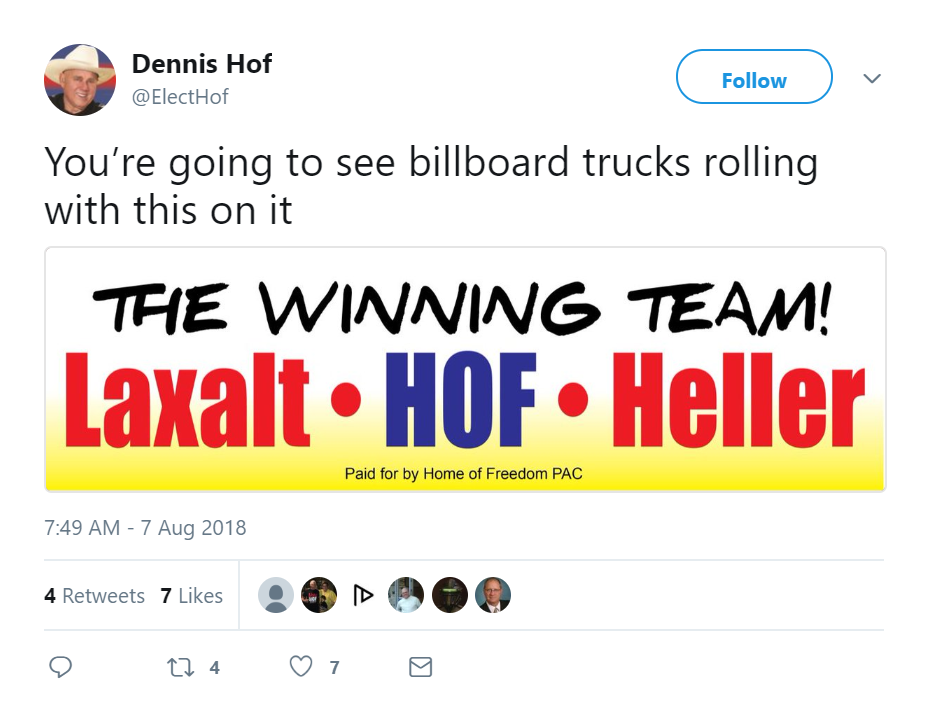 (James DeHaven | Reno Gazette Journal) – Nevada Attorney General Adam Laxalt may not love sharing a campaign billboard with brothel baron and Republican state Assembly candidate Dennis Hof, but he's not going to try and stop it.
The GOP governor hopeful became the first of several high-profile Republican candidates to distance himself from Hof after June's primary election, though he said Monday he wasn't concerned about plans for a billboard campaign that describes himself, U.S. Sen. Dean Heller and Hof as part of a "winning team" in November.
'We're not concerned about it'
Hof announced the billboard buying spree on Twitter last week, explaining the move was meant to show he had no hard feelings toward Laxalt, Heller and a host of other Republicans who disavowed him in the wake of several well-publicized sexual misconduct claims from former brothel workers.
Laxalt did not take the bait.
"I don't plan on campaigning with (Hof) or endorsing him and that's it," he said after a meet-and-greet with military veterans in Reno. "I'm not going to engage in anything in between.
"We're not concerned about it. It's not something we're paying attention to."
Hof is heavily favored to win the race for deep-red Assembly District 36 after ousting incumbent Republican Assemblyman James Oscarson on primary election night. He'll face Democrat Lesia Romanov in November's general election.
Laxalt, who declined to endorse either Republican during the primary, was far from the only GOP politician to pull away from Hof.
Gov. Brian Sandoval, lieutenant governor candidate Michael Roberson, attorney general hopeful Wes Duncan and Heller each split with Hof in the days after his nomination. Assemblywoman Jill Tolles also denounced the candidate on Twitter.
Assemblyman Jim Wheeler, R-Minden, who was on hand for Laxalt's campaign event on Monday, predicted the Assembly would take the extraordinary step of declining to seat Hof during the upcoming legislative session.
Democrat Jason Frierson, who's expected to be the next Assembly speaker, in June told the Nevada Independent he doesn't plan to take that step "unless misconduct occurred after Hof was elected or something criminal arose."